Every Sunday, with all my heart, I desire to be like Mary. Forget the daily work, stop fussing around like the restless Martha. But the perfect Sunday is a myth.
It's Sunday, 3 PM, and I am finally sitting down with a cup of coffee to have a quiet time, write my piece, read my Bible, and listen to the sermon I missed while tending to my kid in kindergarten at church.
And as nearly every day, my mind wanders to the story of the two sisters:
📘 At the Home of Martha and Mary
38 As Jesus and his disciples were on their way, he came to a village where a woman named Martha opened her home to him. 39 She had a sister called Mary, who sat at the Lord's feet listening to what he said. 40 But Martha was distracted by all the preparations that had to be made. She came to him and asked, "Lord, don't you care that my sister has left me to do the work by myself? Tell her to help me!"
41 "Martha, Martha," the Lord answered, "you are worried and upset about many things, 42 but few things are needed—or indeed only one.[a] Mary has chosen what is better, and it will not be taken away from her."
(Luke, 10:38-42)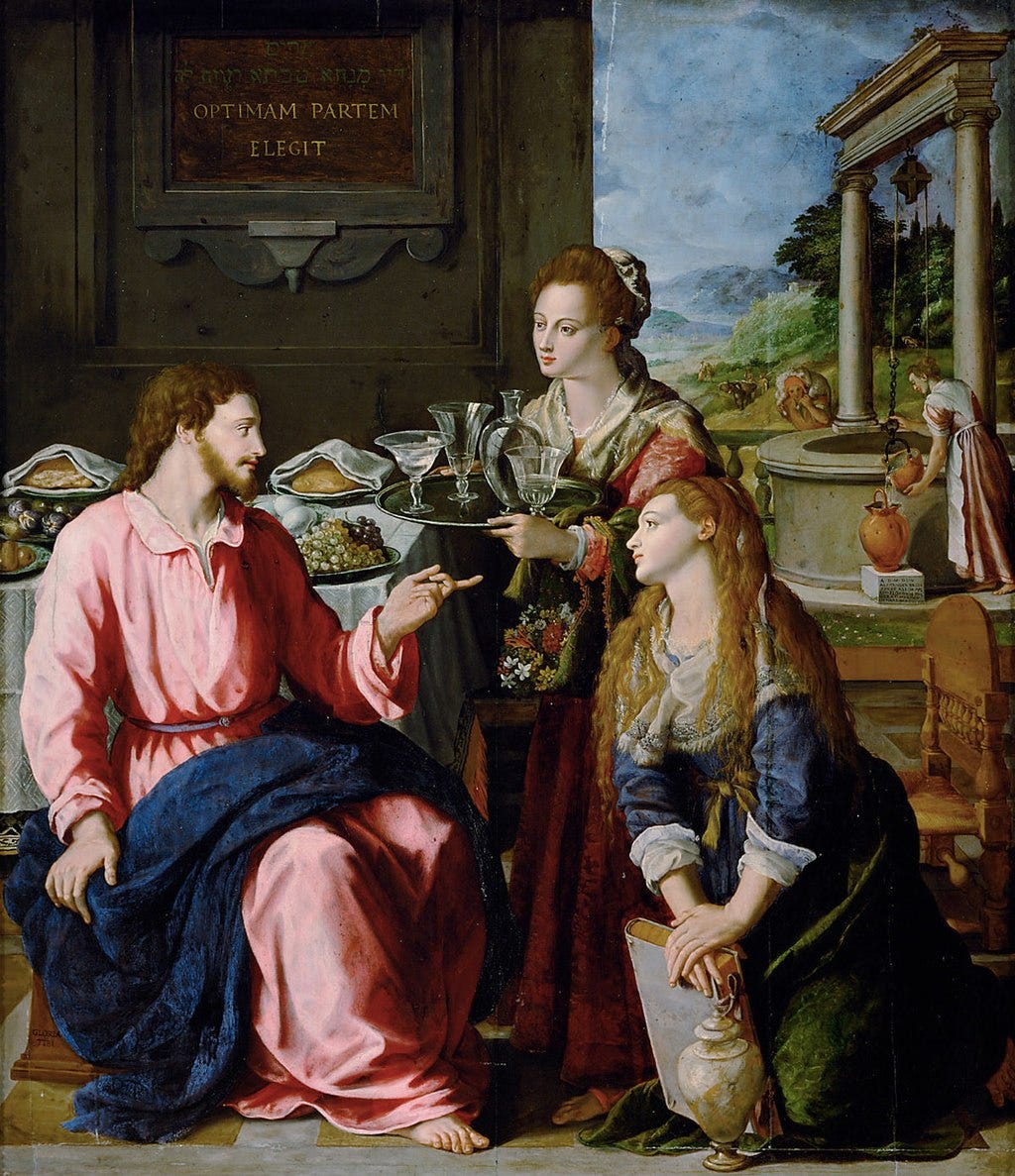 Painting by: Alexander Allori, 16th century
Every Sunday, with all my heart, I desire to be like Mary.
Forget the daily work, stop fussing around like the restless Martha, and rest and listen to the word of God as He calls to me from the Scripture, from my books, from the preacher, and both the quiet whispering of trees and the happy laughter of my kids.
But can a mother, a working mother, be like Mary at least for a day?
I am slowly realizing that no. I can do my best, but striving for the perfect Sunday only spoils things.
Yesterday, I worked hard to clean up all the mess piled up in our flat during my three weeks of recovery after a series of annoying diseases.
I imagined myself sipping the morning cup of coffee and having a nutritious breakfast.
Yet, a perfect Sunday is a myth. I woke up, hurriedly gulped my coffee while brushing my little girl's hair, packed our things, and ran for church. We ate some snacks on the bus.
On our way home, we had to pick up some medicine from the pharmacy and buy some bread for lunch so I didn't have to cook.
We came home; I prepared the family meal, unpacked the shopping, cleaned up the mess, and sat down to enjoy my Sunday.
Do you see yourself?
Every Sunday, I refrain from adding items to my to-do list.
Every Sunday, I refrain from working and focus on family and God.
But the focus on family complicates things.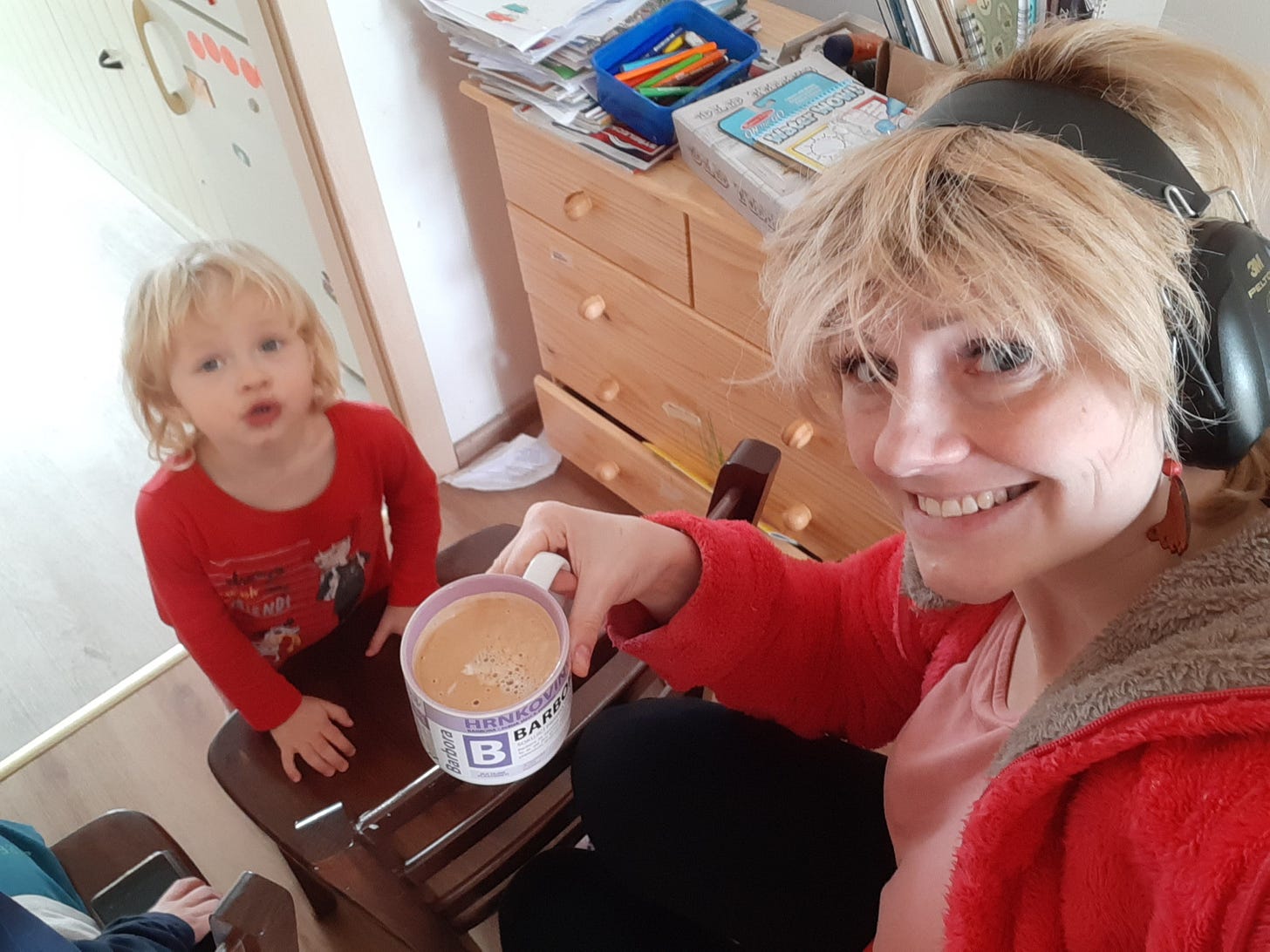 Marha´s part in the story
The story of Mary and Martha is inspiring in many ways. Right now, I have to take Martha's side. Just imagine our poor Martha fussing over Jesus and his disciples.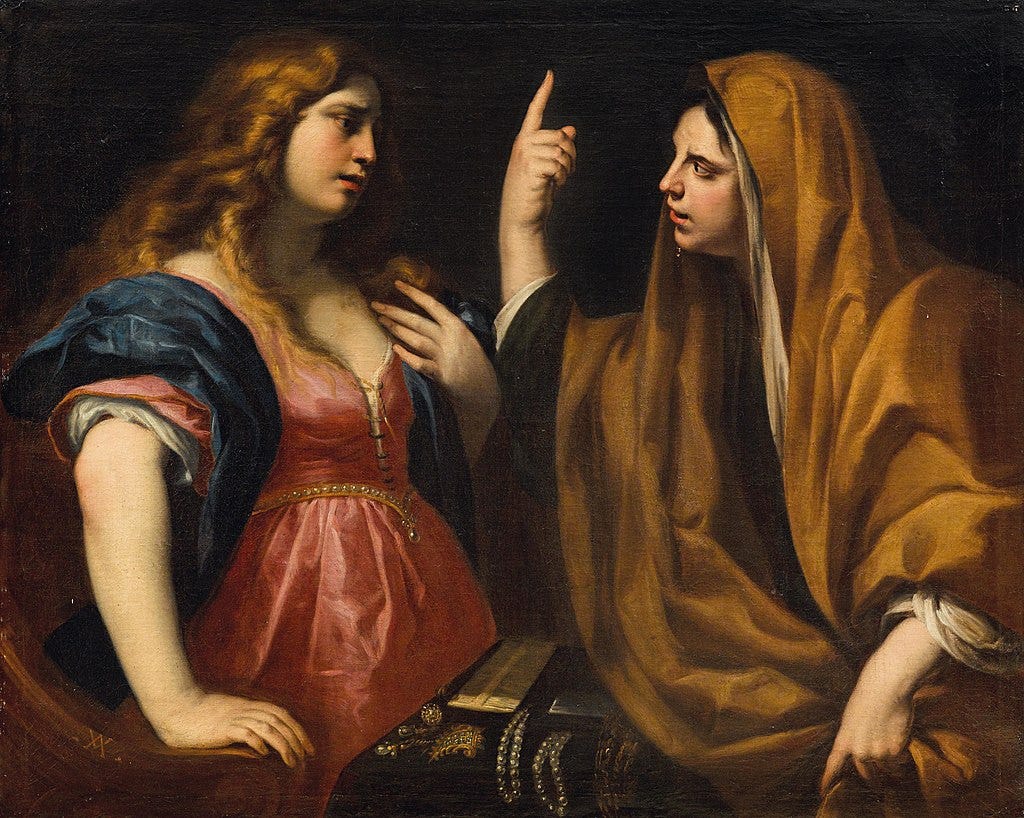 Painting by : Andrea Vacaro, 17th century
In Palestine, around 30 BC, there were no takeaways, microwaves, or even a fridge and flour from the supermarket. It took much more time and energy to serve nutritious food.
Yet, there is pride in what Martha does. If not pride, then vanity, at least. The satisfaction of being the perfect hostess, to show off as the woman who can care for men who entered her house that evening.
This pride is just understandable. Her household and the delicious food she makes is her job, her source of self-worth. Her master honored her with his presence; everything must be perfect. In 30 BC, being an ideal hostess was the only thing a woman could be proud of. That was a social norm, right? But Jesus never cared about social norms.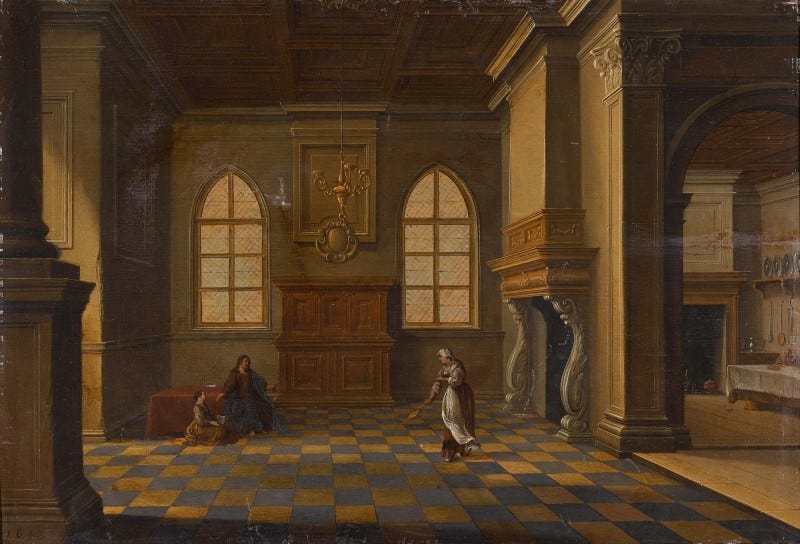 Painting by: Bartholomeus van Bassen, 17th century
However, pride is not Martha's sole motivation. She is a good woman, our Martha, and has been listening to Jesus patiently for some time now. She does not only aspire to be the perfect hostess. She wants to care for these men she cares about and her master most of all.
Mary knows better, but Martha is the caregiver
If it had been Mary's way, something simple would have to do. Mary would have served them stale, dry, old bread and ignored reproachful looks from the grumpy disciples, knowing that Jesus knew better. Mary realized that she would enjoy running about in the kitchen and trying to please men in her family every other evening in her life. Tonight, Jesus was here. And every minute in His presence was precious.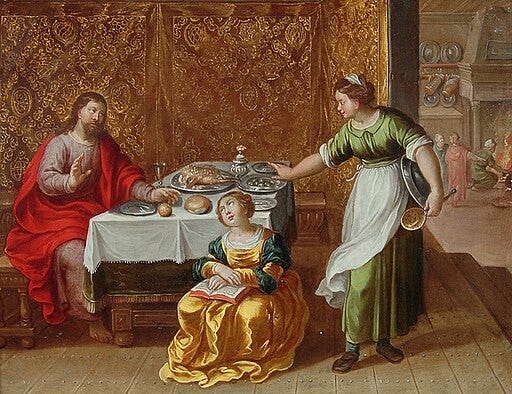 Painting by Vincent Adrianssen, 17th century
That is our Mary, but Martha is the caregiver. She knew Jesus would be happy with old stale bread. But she knows him and his disciples. After tonight, they will set out on their journey, and when will they taste warm food again? Look at Him how thin he has grown lately; he would sit here and preach and then go and heal the sick. Martha will not allow this; he must eat a warm, nutritious meal to be strong. He deserves this. She means well, our Martha.
We often do when we put too much on our shoulders.
Often, we push ourselves far beyond the limits God set for us.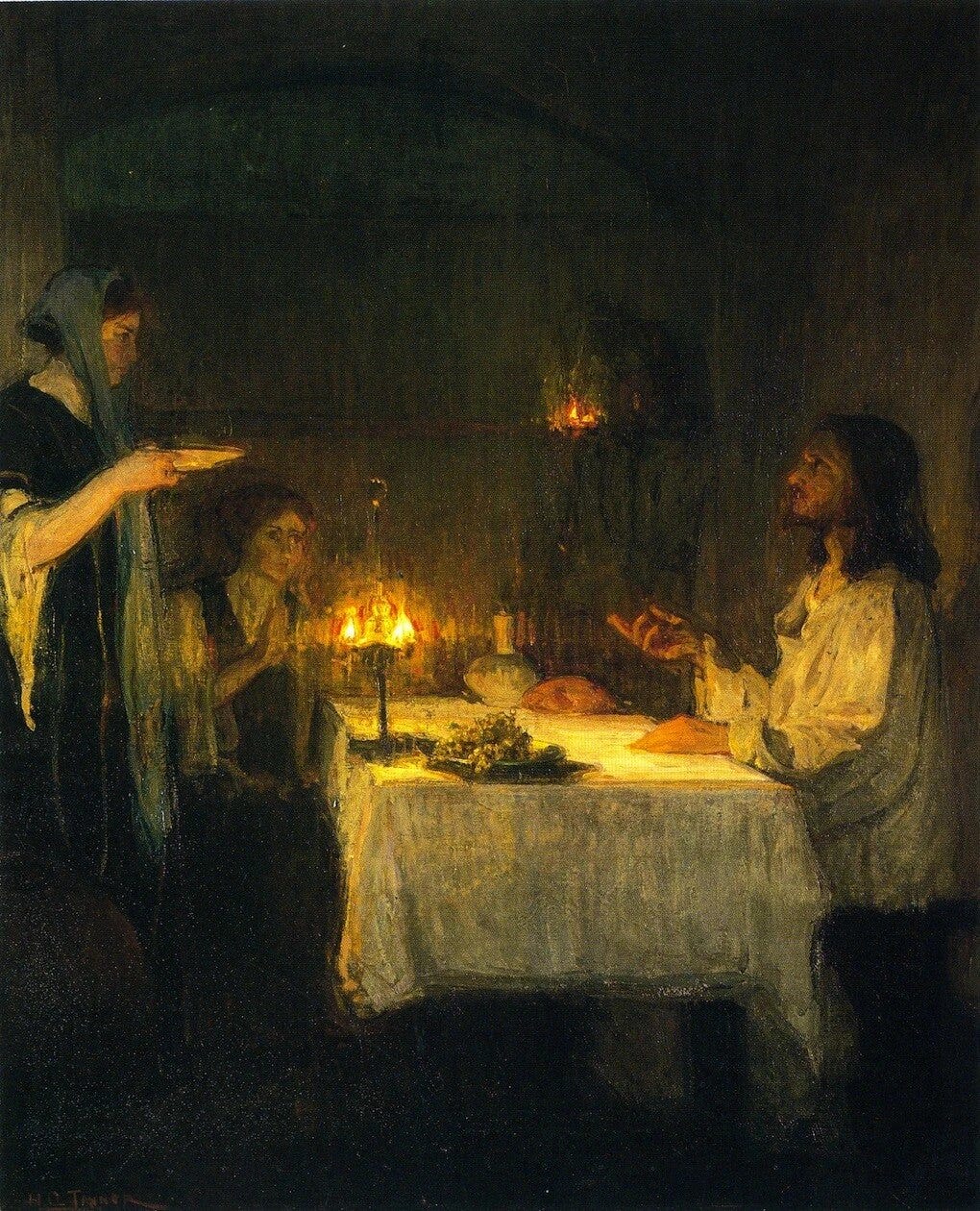 Painting by: Henry Ossawa Tanner, 1905
We do more than he wants us to, which inevitably means we do too much.
But we mean well. We only want them to be well-fed, clean, and happy. But we mean well. We never stop to ask what God means.
That is when our pride comes in.
But it is so hard to find the balance for a mother. Or a caregiver like Martha.
We cannot all be like Mary. If both sisters sat on the floor listening to Jesus, the whole gathering would probably go hungry. But they had Jesus with them. He would solve the issue somehow. Something Mary understands, but Martha, blinded by love, concern, and, yes, pride, does not see it.
Thus, overworked, Martha's nerves gave way, and she snapped at her sister. And she complained to Jesus about Mary's indifference.
How many times has it happened to you?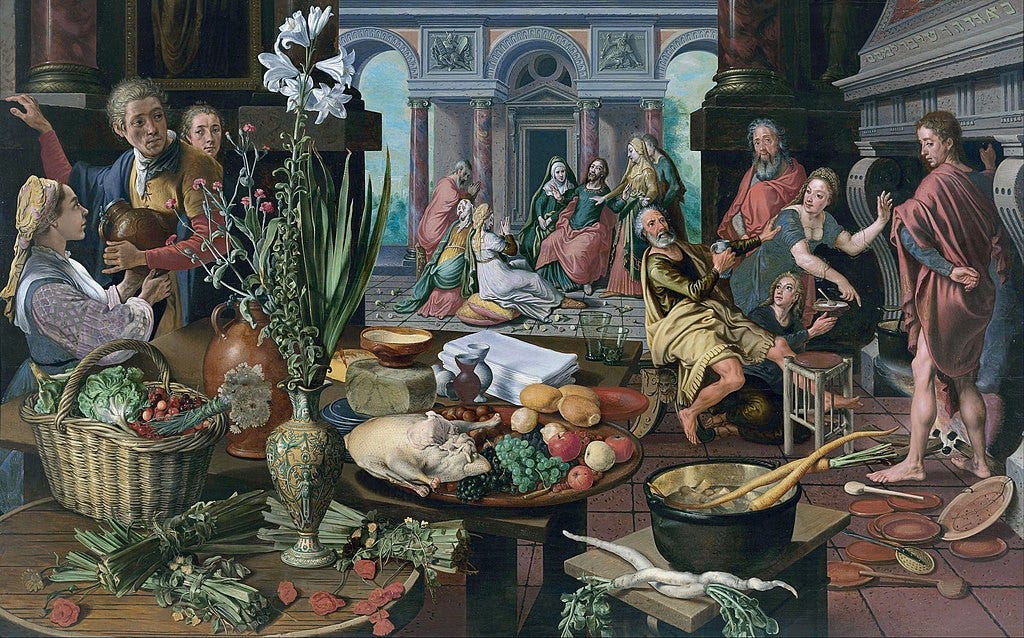 Painting by Pieter Aersten, 16th century
I do it often. Instead of cooking simple pasta that would suffice, I decided to cook a perfectly nutritious and healthy meal. Instead of playing with kids, I spend the afternoon in the kitchen, and when the time comes to serve the food, the dinner is still in the oven, and the dinner table is full of toys, I snap.
I snap at my husband to come and help me because: "Don't you see how hard I work?"
That is what Martha did. She works hard and is tired. When we are tired, we pity ourselves and blame others. Martha blames Mary.
Well, we don't know what preceded their argument. Perhaps Mary could have been a little more sensitive and helped her sister. But we should not assist our loved ones when they willingly push themselves too hard and ask for our help when they cannot do more, especially when we have more important things to do, like listening to Jesus.
Our knowledge is limited to the lesson Martha was given.
That lesson is for us all.
Even when we mean well, we must first ask what God means.
Subscribe to my channel and get the latest faith, motherhood, business, and personal development articles in your inbox.
Be part of our community of mothers who strive to find the balance between the Mary and the Martha in us.